Put your business in the big leagues with the MVP Marketing Program.
Get access to directvmvp.com, a simple and valuable online platform that gives you DIRECTV marketing support and a variety of tools including posters, banners, and more.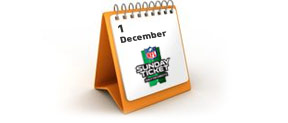 Use the DIRECTV Premium Sports Schedule to see when the biggest games are on - so you always attract a huge crowd.
The DIRECTV MVP Marketing Program is designed to help you take your business to the next level.
You'll get all this and more:
Access to a customized advertising and merchandising site
$200.00 in Credits every year to buy merchandise.
Promotional sports kits to drive traffic to your establishment
A listing on the exclusive DIRECTV Sports Bar Finder mobile app for iPhones and Android
Recognition of your DIRECTV subscription with top online city guides
To take advantage of this program, go to directvmvp.com and sign in with your DIRECTV username and password. If you have any trouble signing in, call (989) 781-1635 or (800) 798-8850 (Mon. - Fri., 8am to 8pm ET) or email directvsupport@brandmuscle.com.